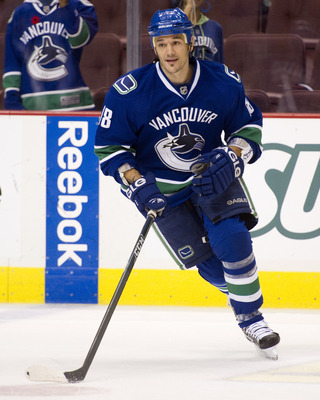 Assistant Coach: it's a role that former Vancouver Canuck Peter Schaefer didn't ever see himself filling while he was still playing the game. Nonetheless here he is, stepping behind the bench for the first time with the Surrey Eagles.
However, the 35-year-old doesn't see his new position as that of a typical coach. He hopes to be more of a mentor, someone his players can turn to for advice about the game in any capacity.
"I'm going to have a bit of a personality," said Schaefer. "I'm here to try and make the players comfortable. With the experience I had playing in a number of different leagues, I hope that if they have any questions or if they want to learn about anything on or off the ice that I can help them out."
Schaefer spent his junior career with the Brandon Wheat Kings of the WHL where he went to two Memorial Cup tournaments and scored 124 goals and 291 points over parts of four seasons. He was drafted 66th overall in the third round of the 1995 draft by the Canucks and went on to play 635 games in the NHL, split between Vancouver, Ottawa and Boston. He also spent time playing in Finland, Italy, and most recently Germany where he finished his career at the end of the 2010-2011 season.
"I've always loved the game and when it's all you've ever done, it's definitely tough," he said of his decision to retire at the age of 33. "At the same time, as you move up and move forward in your career, you realize that it's a business. I got a lot from the game and I'm very fortunate."
Eagles Head Coach and General Manager Matt Erhart hopes that Schaefer's vast playing experience and wealth of hockey knowledge will benefit the team -- especially offensively.
"He was a talented offensive player, and he's going to be really good for us in terms of teaching the little things and nuances to the forwards," said Erhart of Schaefer. "He brings a name for instant respect and credibility for the players. They all know who he is."
Schaefer's goal is to help his players reach the heights he achieved, but he also understands the importance of an NCAA scholarship -- something he wasn't eligible for because he chose to play in the WHL. At the time, the native of Yellow Grass, Saskatchewan felt that playing in the SJHL meant giving up on his NHL dream. He now concedes that the quality of Junior A hockey has vastly improved over the last two decades.
"Now there are just as many guys coming out of Junior A as there are coming out of the western league, and college is a great program," he said. "A lot of guys, when they're done in the NHL, no matter how much money they have saved up, they don't know what to do with themselves, so I think whether you make it or not, (college hockey) is a good route to go."
By joining an Eagles program that helped 13 players receive university scholarships last season alone, Schaefer hopes to make a significant impact on the careers and lives of the young players he coaches in Surrey.